Centier Bank's Backpack Summer Food Drive Benefits the Food Bank of NWI
Last Updated on Jun 14, 2023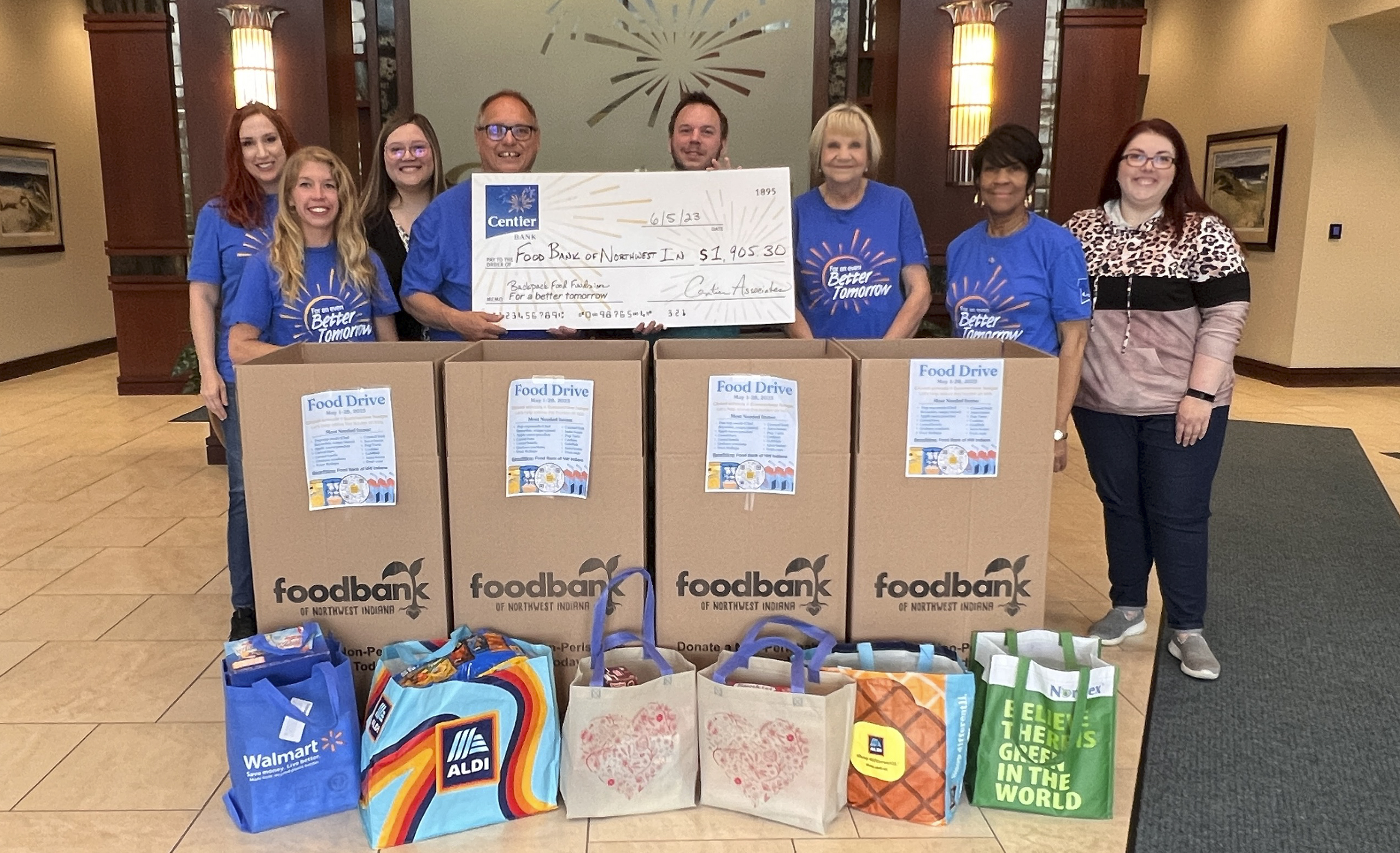 MERRILLVILLE, Ind. -- Centier Bank hosted a company-wide Summer Backpack Food Drive, donating 359 lbs. of food as well as $1,905 to the Food Bank of Northwest Indiana. In total, donations from the food drive were able to fill approximately 250 backpacks this summer for food-insecure children in The Region.
Charlie Cole, Development Coordinator at the Food Bank of NWI, said 13% of residents are food-insecure in the organization's service area, which spans Lake and Porter counties. Cole explained that each backpack the Food Bank of NWI distributes through the program contains 6-7 lbs. of food.
"Centier Bank's associates were able to support nearly 20% of our current Backpack Programs, reaching children at school or youth care locations," Cole explained. "This food drive was unique because it was specifically focused on collecting items for children."
Cole said that Centier's partnership is an example of what can be accomplished in hunger relief efforts in our community.
"This project was a success because of Centier's passion to serve, which is helpful to us to find creative solutions to the ongoing and ever-changing needs of our community," Cole explained. "Centier promotes our events, sponsors them, volunteers for the Food Bank, and participates in fundraising for us. Thank you for your dedication and support for our mission and our neighbors in need."
Bob Lueder, the Café Hospitality Manager at Centier Bank, spearheaded the special drive with help from Centier's associate group, Spreading Smiles. He was amazed to see so many of his colleagues getting involved and surpassing the initial goal of $1,500 and shared that it warmed his heart to know that they are making a difference.
"I am continually inspired by the incredible teamwork and dedication displayed by my colleagues at Centier Bank," Lueder said. "By recognizing the unifying power of food and its ability to foster a sense of community, we wholeheartedly joined forces to alleviate hunger in the communities we serve. Together, we demonstrate the profound difference we can make when we unite for a cause greater than ourselves."
Centier Bank's contribution was so significant that a local Hilton-brand hotel caught wind of the food drive and was inspired to hold its own associate-driven food drive.

"How exciting to be inspiring our neighbors in such a positive way!" said Peggy Lieberman, Mortgage Underwriter at Centier Bank and part of the Spreading Smiles Committee. "We are so proud to be a part of this organization that believes in the power of philanthropy, and one that really comes together to make good things happen."
For more information on the Food Bank of NWI, or to find information about volunteering, donating, or utilizing the Food Bank, go to
foodbanknwi.org
.