Banking Options for Every Stage in Life
No matter where you are in your financial journey, Centier Bank is here to help be your financial guide.
Checking
Looking to open a checking or savings account? We can help you get started!
Savings
Along with working hard, it's time to also make good savings decisions. We can help you manage and grow your money for those later years.
Mortgages
Looking to purchase your first home? We are here to help you and the needs of your growing family!
Essentials for Small Business
We know and love small businesses! Whether you are starting out or operating and growing an existing business, our trusted small business advisors will guide you and be with you through every step along your journey.
Checking
Manage your daily cash flow and rely on the flexibility and benefits that work best for your small business.
Loans & Lines of Credit
Experience the advantages of choosing Centier Bank, an SBA Preferred Lending Partner, for your small business financing needs.
Start Your Business
Our advisors understand the value of learning your needs and goals, so they can expertly guide and support you along your business journey.
Supporting Our Commercial Partners
Using our Industry Expertise, we help you succeed and grow your business. Discover robust lending options from $1M to $250M+, treasury management solutions, employee services and more!
Loan Options
Ranging from small to very large loans, Centier has the resources and team to provide the right lending solution for your business.
Treasury Management
Take advantage of solutions that enable you to securely collect and distribute funds in ways that can save you time, money and reduce risk.
Commercial Real Estate
From residential housing to office, manufacturing and retail space, Centier can finance the perfect location to host your business operations.
Connect With Us
Have questions or feedback? Reach out to us anytime by phone, email, booking an appointment or visiting a local branch. We're here to assist you!
Centier Bank Locations
We have been serving customers in Indiana since the beginning. Our branches in Indiana include banks in Indianapolis, Northwest Indiana, Valparaiso, Michiana, Fort Wayne and More. Find locations near you below.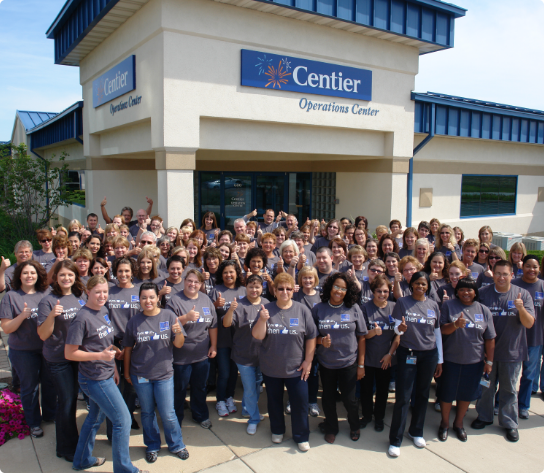 Centier Gives
Since 1895, Centier has been a legacy of success, not merely through business, but through philanthropy that extends throughout the communities we serve.

3,864
Organizations Supported

$14M+
Community Impact

105,000+
Hours Volunteered
Enriching Lives through Financial Guidance