Centier Bank Awarded Bank of the Year, Lenders Recognized by Regional Development Company
Last Updated on Nov 17, 2023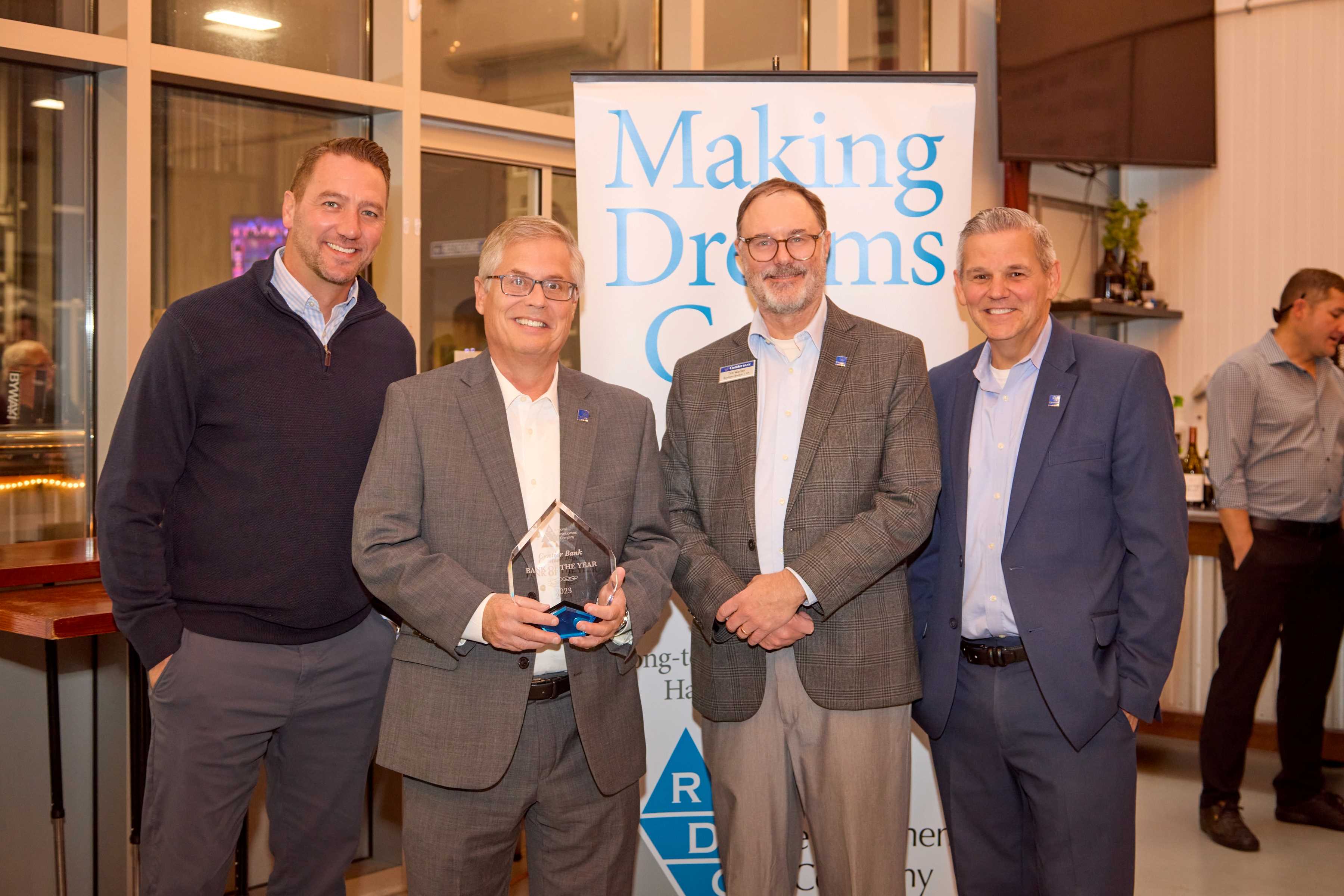 From left to right: Tim Spoelman, Centier Bank Business Banking Officer; Tom Wilk, Centier Bank Chief Lending Officer; Tim Warner, Vice President of Business Banking; and Greg Gordon, SVP of Business Banking at Centier Bank.
VALPARAISO, Ind. – The Regional Development Company (RDC) recognized Centier Bank at its annual awards ceremony Nov. 9 as the Bank of the Year with the most funded loans based on quantity and dollar amount. Additionally, Centier Bank business bankers were recognized and awarded at the event for their lending accomplishments.

Centier Bank has received the top recognition from the RDC in its Bank of the Year or Most Active Bank Partner category annually in the last five years, and several times prior to 2018.

The Valparaiso-based nonprofit is a Certified Development Company that administers the U.S. Small Business Administration's 504 Loan Program for small business growth. The RDC partners with local financial institutions to provide business financing for large capital projects in Indiana, Illinois, and Michigan.

This year, the RDC had 12 loan approvals by the U.S. Small Business Administration totaling $19 million in debenture dollars to local companies. Of those loans, two of the businesses are minority-owned, five are women-owned businesses, three are rural-owned businesses, and one is a Veteran-owned business.

The RDC funded 12 loans in 2023, bringing $25 million of capital investment into local communities, and was a catalyst in the creation of 107 jobs in the states of Indiana and Illinois. Centier Bank was awarded Bank of the Year for the third consecutive year with three loans for a total of $3,195,000 in SBA loan dollars.

Three Centier Bank associates received individual awards this year. Tim Warner, Centier Business Banking Officer, received the Lender of the Year Award for referring $1462,000 in SBA loan dollars. Laura Holesapple, Centier Bank Business Banking Administrative Specialist, was the first Support Person of the Year award recipient. And lastly, Tim Spoelman, Centier Bank Business Banking Officer, was elected as a member of the Loan Committee.
"I am truly honored to receive the Lender of the Year Award, which recognizes Centier Bank's commitment to serving as a trusted partner for small businesses in our community," Warner explained. "At Centier Bank, we believe that our success is directly tied to the success of the businesses we support. By providing financial solutions and fostering growth, we are not only enriching the lives of our community members but also playing a pivotal role in creating new job opportunities, strengthening our local economy, and ensuring a brighter future for all."
"Centier Bank has been a great partner with the Regional Development Company over our 30-year history," said Erica Dombey, President and Executive Director of the RDC. "We are happy to see them win two big awards in 2023, and even happier to present Laura Holesapple with the first ever Support Person of the Year award. The RDC created this award to recognize the unsung heroes behind the scenes that make the loan transactions run smoothly. The winners will be chosen by the RDC staff, and Laura was the first person they thought recognize; she exemplifies excellent customer service and dedication to her clients."