Centier Bank Donates $25,000 to Housing Opportunities for Housing Development
Last Updated on Oct 23, 2023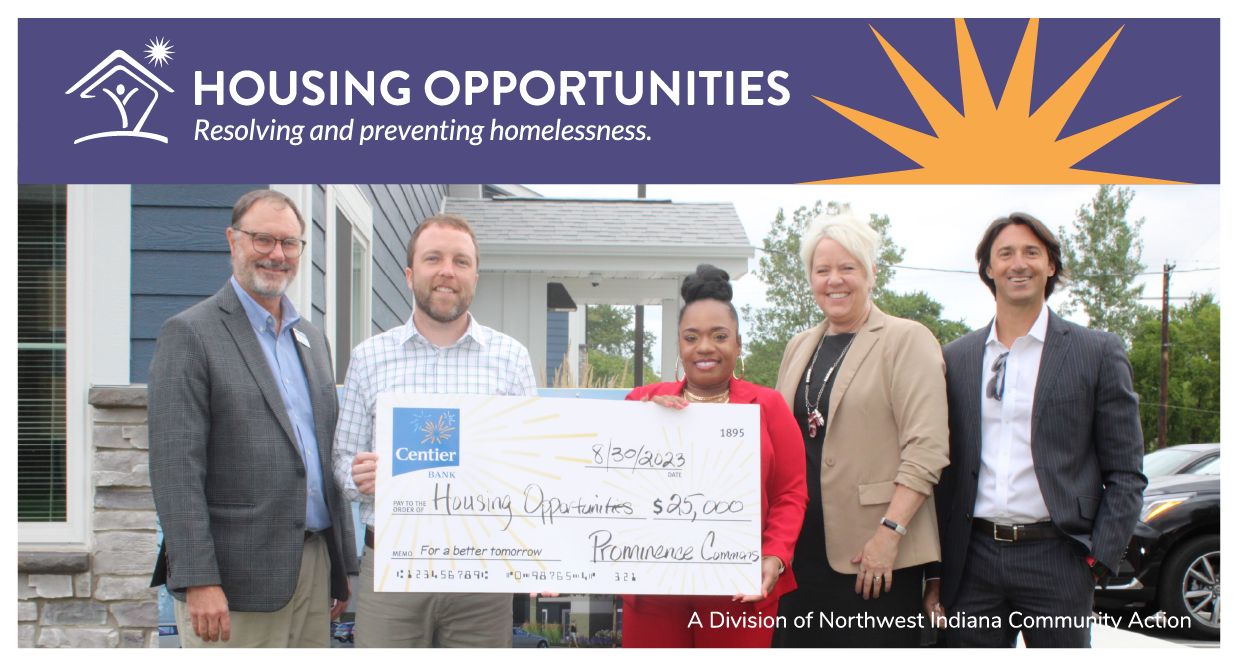 VALPARAISO, IND. -- Centier Bank recently presented a $25,000 donation to Housing Opportunities, Inc., a community-sustained nonprofit that resolves and prevents homelessness for adults, children, and seniors in Porter and LaPorte counties.

This partnership will aid in the rehabilitation of the Housing Division, Prominence Commons, which includes 38 townhome units and 48 new construction apartment units to help families with emergency housing and affordable rentals. Centier also assisted with the project by providing interim construction financing and grant assistance.

Tim Warner, Vice President of Business Banking at Centier Bank, said this partnership is just one example of why community banks are integral in enriching lives throughout the communities they serve.

"Working with Housing Opportunities has been a mutually rewarding experience for both the customer and Centier," Warner said. "We proudly serve as the organization's primary bank for treasury services, and they are a wonderful partner to us. Over the years we have provided loans to the organization for projects that provide safe and quality housing for homeless and low to moderate-income families. This is a creative partnership that affords Centier a real opportunity to assist underserved individuals in our communities."

Claudia Pena, Communications Manager at Housing Opportunities said the organization's partnership with Centier Bank significantly enhances its capacity to fulfill its mission of providing housing opportunities and support services to those who need them.

"With the additional resources provided by Centier Bank, we can expand our services to include the community center, making it accessible to residents and community members in need of essential services," Pena said. "This facility will help individuals with disabilities and families find essential support and resources within their living community, creating a more holistic approach to well-being."

During the check presentation, Dakita L. Jones, Community Relations Manager, Anthony Contrucci, President of First Bancshares, joined Warner and Stanfill along with Jordan Stanfill, former CEO at Housing Opportunities.
For more information about Housing Opportunities, go to
hoi.help
.