Centier Bank Donates $5,000 to Gennesaret Free Clinics
Last Updated on Nov 6, 2023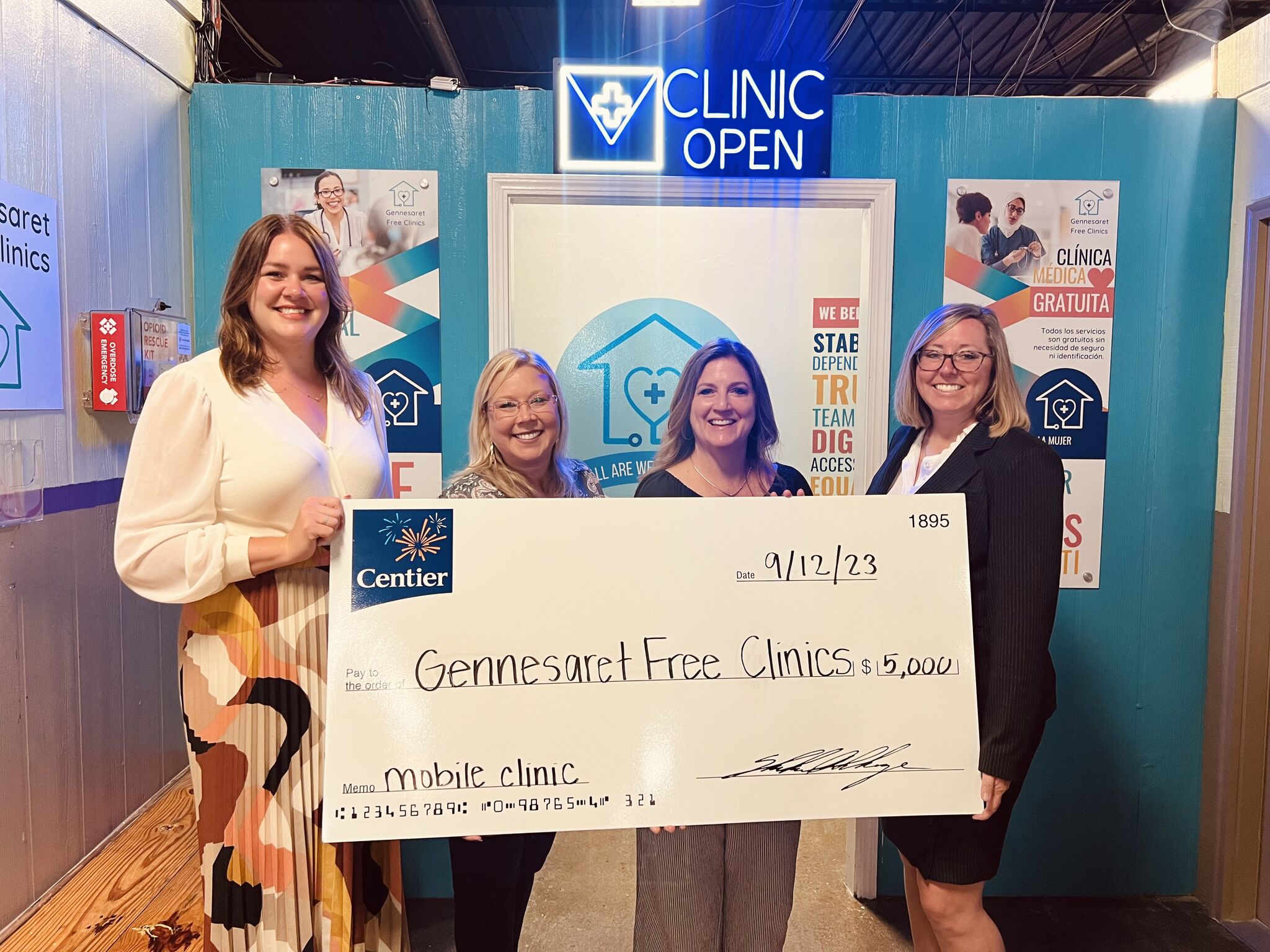 Centier Bank Community Relations Manager, Linda Risch; Debra Evans, Philanthropy and Stewardship Officer at Gennesaret Free Clinics, Theresa Patterson, Executive Director of Gennesaret Free Clinics, and Wendy Harvey, Branch Manager of Centier Bank Indianapolis Downtown.
INDIANAPOLIS, IND. -- Centier Bank recently presented a $5,000 donation to Gennesaret Free Clinics, a nonprofit medical clinic providing quality, accessible, and compassionate patient-centered healthcare for persons experiencing homelessness or lacking established healthcare in Greater Indianapolis, both on-site and by mobile clinic.
Centier Bank's Community Relations Officer, Linda Risch, and the Downtown Indianapolis Branch Manager, Wendy Harvey, helped facilitate the new partnership. Gennesaret relies heavily on donations and corporate sponsorships to help pay for medical supplies, services, and other needs.

Debra Evans, Gennesaret Philanthropy and Stewardship Officer, said the $5,000 donation will cover the entire cost of prescriptions for one month at the clinic.

"I am very thankful for our new partnership with Centier Bank," Evans explained. "I reached out for a sponsorship opportunity and was surprised and touched to not only receive support—but more support than we initially asked for."

Risch and Harvey were able to tour the clinic's on-site location last month and were surprised when Evans told them the clinic had named the waiting room the "Centier Bank Waiting Room."

"We're humbled by the invaluable services Gennesaret provides to those in need of medical care and services, and it is an honor to be able to call ourselves their partner," Risch said. "Everyone deserves access to quality medical and dental care, and we are proud to be able to do what we can to support their mission."
Gennesaret is celebrating the grand opening of its new mobile medical unit—a shared victory, Evans said, for Gennesaret's donors, supporters, volunteers, and community members. For more information about Gennesaret Free Clinics, go to Gennesaret.org.