Centier Bank Donates $5,000 to Indiana Coalition Against Domestic Violence
Last Updated on Oct 25, 2023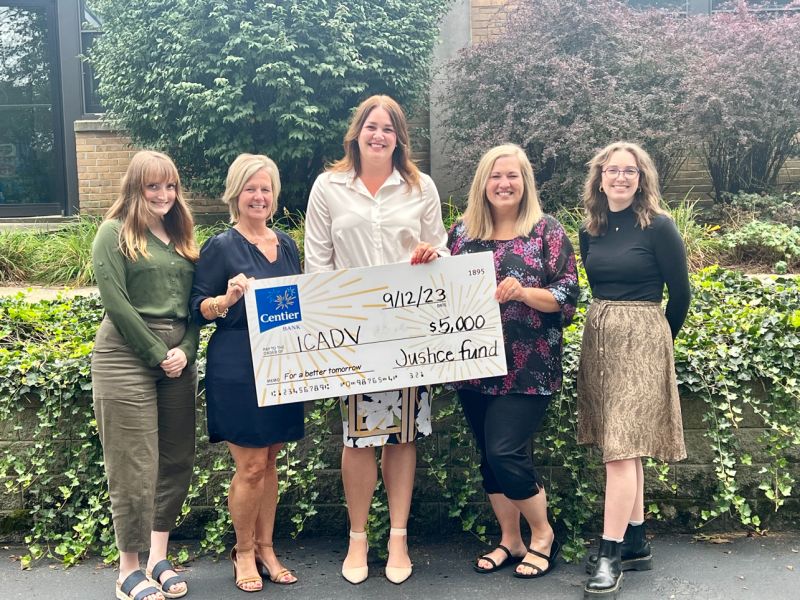 INDIANAPOLIS, IND. -- Centier Bank recently presented a $5,000 donation to the Indiana Coalition Against Domestic Violence. ICADV provides programs to drive its mission of eliminating domestic violence through advocacy, primary prevention, support, legal services, and survivor housing services.

October is National Domestic Violence Awareness Month, a time to honor and shed light on domestic violence survivors while amplifying their voices. One in three women and one in four men have experienced physical abuse by an intimate partner, while one in five women and one in seven men have endured severe physical abuse in this context.

Maggie Moore, Communication Coordinator at ICADV, said the Coalition believes domestic violence is preventable, and real change happens when communities come together, making Indiana safe, inclusive, and equitable for everyone.

"We cannot thank Centier Bank enough for supporting these initiatives and being a partner," Moore explained. "Partnerships allow us to think big and create projects that meet survivors of domestic violence where they are in life."

Moore also explained that ICADV's initiatives, such as the Economic Justice and Mobile Advocacy projects, have been some of the most helpful projects for survivors. She added that community partnerships, like the one ICADV has with Centier Bank, are crucial to the organization's mission of ending violence and supporting survivors in the most helpful ways possible.

Linda Risch, Centier Bank's Community Relations Officer, presented the donation to ICADV last month. Risch said the coalition's efforts, which include hundreds of hours of training for advocates and professionals, homicide reduction strategies, victim assistance training, youth advocacy, and the Race Away From Domestic Violence run/walk are just a few of the crucial programs the organization leads regularly each year.

"Millions of Americans live in silent fear within their own homes," Risch said. "And millions of children are exposed to domestic violence each year, which can have long-lasting negative effects on their emotional well-being, as well as their social and academic development. Centier Bank is a true community bank, and we are committed to supporting the imperative services our communities need—and we are so grateful to ICADV for their tireless and invaluable efforts."
For more information about the Indiana Coalition Against Domestic Violence, go to icadvinc.org.