Centier Bank Donates $5,000 to Create Lasting Impact for Big Brothers, Big Sisters of Central Indiana
Last Updated on Jan 27, 2023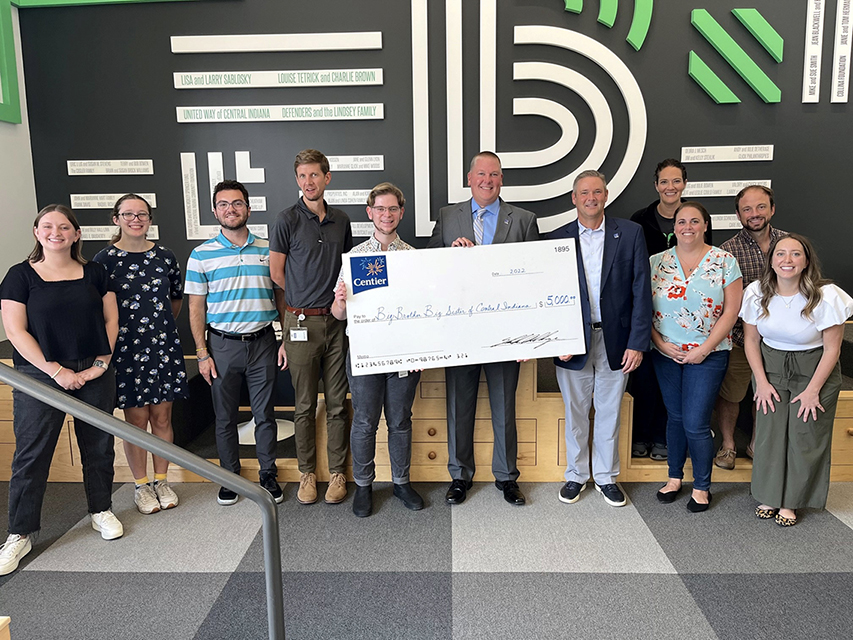 INDIANAPOLIS, Ind. – Centier Bank made a $5,000 community donation to Big Brothers Big Sisters of Central Indiana to help support the organization's programs and events. Big Brothers Big Sisters of Central Indiana serves more than 1,280 youth annually ages 8-18 in Hamilton, Johnson, and Marion Counties.
The organization partners with parents/caregivers, volunteers, schools, and the donors in the community to defend, ignite, and empower the potential of every child it serves. The Big Brothers Big Sisters mission is to create and support one-to-one mentoring relationships that ignite the power and promise of youth.
Caitlin Bain, Chief Development Officer for Big Brothers Big Sisters of Central Indiana, said the partnership with Centier Bank made a powerful impact on Central Indiana youth in 2022, as the organization returned to in-person activities for the first time in nearly three years.
"Centier Bank proudly joined Big Brothers Big Sisters of Central Indiana as an Apex Sponsor at 'The Main Event', our largest annual fundraising event of the year, which raised close to $350,000 to create more 1-to-1 mentoring relationships and programming to help youth thrive," Bain said. "BBBSCI is immensely grateful for partners like Centier Bank who stand with us and the hundreds of young people actively waiting for a mentor. Thank you, to Centier Bank, for making this event such a success. We look forward to partnering with Centier Bank in 2023 as we work together to create a brighter future for the youth of Central Indiana through long-term sustainable impact."

Scott Norman, Vice President of Business Banking at Centier Bank, serves as a board member for Big Brothers Big Sisters of Central Indiana. Norman said he's very proud to represent two organizations that work hard to enrich lives in the community and looks forward to a continued partnership in 2023.

"Centier Bank is a true community bank that is committed to supporting organizations that create opportunities and lasting impact," Norman said. "Big Brothers Big Sisters makes these opportunities imaginable, and it's wonderful to witness their team provide resources for their Littles, ensuring that they feel welcome, safe, and heard."

For more information about Big Brothers Big Sisters of Central Indiana, go to https://www.bebigforkids.org.