Centier Bank Donates $2,500 To Fay Biccard Glick Neighborhood Center
Last Updated on Mar 15, 2023
INDIANAPOLIS, IND.–Centier Bank recently made a community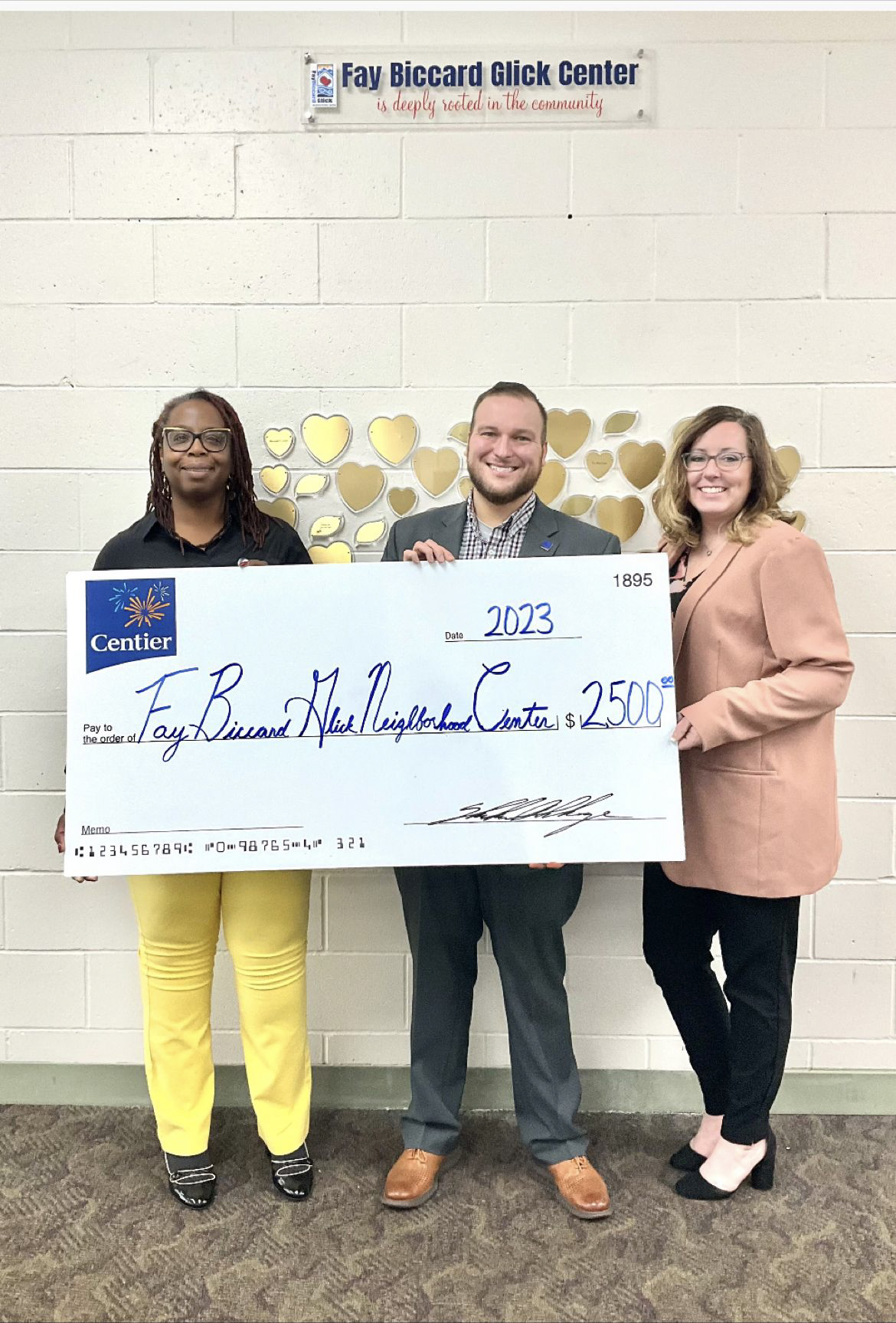 donation in the amount of $2,500 to the Fay Biccard Glick Neighborhood Center in Indianapolis.
The FBGNC provides assistance in education, health, basic needs, hunger and financial education in ethnically and socio-economically diverse neighborhoods. Serving the working poor communities in the Indianapolis metropolitan area, the organization promotes civic, social, and personal responsibility by providing services that enhance the lives of individuals and families.
Centier Bank's donation will directly fund a homeownership program that assists clients who are on the cusp of homeownership by providing credit reports, credit repair services, necessities, knowledge, and education to get them into their homes.
Centier Bank Regional Sales Manager Ben Studebaker and Indianapolis Downtown Branch Manager Wendy Harvey presented the donation. Studebaker said Centier Bank has not only made a monetary donation to the center but is also dedicated to providing continued support and plans to assist in future
financial literacy and education courses
.
"Being able to assist in helping the FBGNC
expand to meet the growing needs of a highly diverse and growing community is our pleasure," Studebaker said. "We look forward to an ongoing partnership to provide their clients enriching experiences for a bright future."
Patrice Duckett-Brown, Executive Director of FBGNC, said the partnership between the two organizations has been overwhelmingly helpful to clients seeking homeownership.
"Centier has always been able to provide support and has been a great advocate around credit repair and homeownership, while also being a financial guide," Duckett-Brown said. "We aim to grant every client that comes in to receive service the knowledge and resources to change their lives and help give them extra support as an incentive to assist them in achieving their goals. We appreciate our partnership with Centier Bank immensely."
For more information about the Fay Biccard Glick Neighborhood Center, go to
faybiccardglickcenter.org
.