Centier Bank Donates $52,000 to Indiana United Way Programs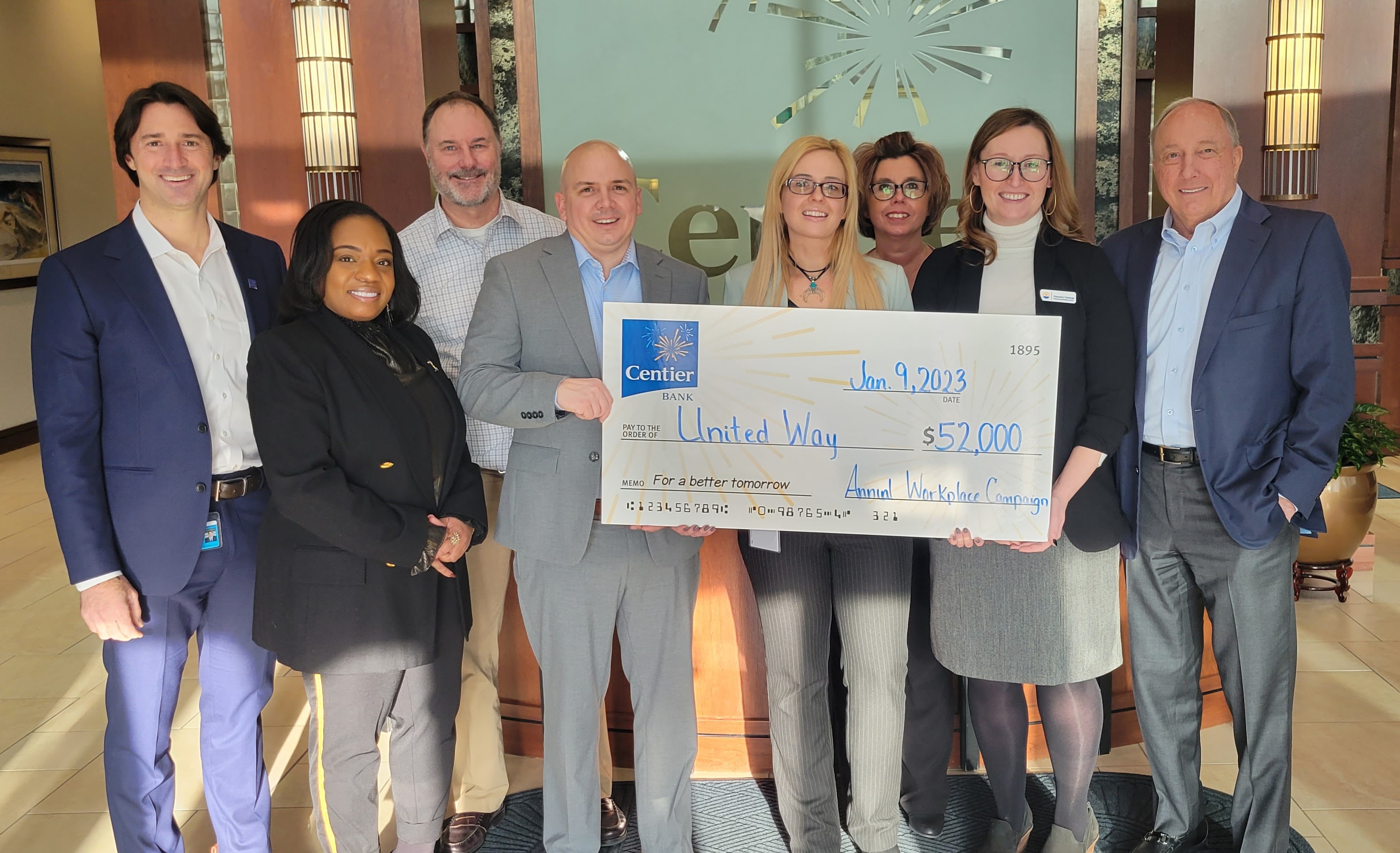 MERRILLVILLE, IND.-- Centier Bank recently presented a $52,000 gift to nine United Way agencies across Indiana as part of its annual United Way Workplace Campaign. Centier Bank's associate contributions and a corporate gift will impact approximately 600,000 individuals throughout the state, helping serve more than 100 local United Way programs.
For more than 50 years, Indiana United Way Agencies have been working to improve lives across the globe through health, education, and financial stability programs. For the past several years, Centier Bank has partnered with United Way chapters across the state, resulting in the advancement of initiatives designed to impact thousands of families and individuals in need.
The donation supports the United Way organizations in the 11 counties in which Centier serves, including Lake, Porter, La Porte, St. Joseph, Elkhart, Marshall, Allen, Tippecanoe, Boone, Marion, and Hamilton counties.

In Northwest Indiana, 1 in 3 households can't afford basic needs such as childcare, housing, food and transportation, which is why United Way NWI is working to expand its services to meet those residents where they are.
Adam O'Doherty President and CEO of United Way of Northwest Indiana,said the organization is extremely grateful for the Centier Bank partnership, which continues to grow every year.
"United Way of Northwest Indiana values our partnership with Centier, and this generous gift will go a long way in helping us accomplish this," O'Doherty said. "Truly, it is only when the whole community works together, that we can harness the power of caring to make every life better- today and tomorrow."
For the next two years, United Way aims to reduce the number of Indiana households living below financial sustainability levels by producing 1,000 graduates through the Level Up program. It also aims to guide at least 3,500 community members to the immediate help they need by creating a one-on-one case management and referral service.
Anthony Contrucci, Centier Bank Board of Director member, said Centier associates look forward to participating in the annual campaign each year, which is a way to enrich lives across the communities they serve.
"Our Servant Heart Culture is what drives our purpose to enrich lives for an even better tomorrow," Contrucci explained. "Our associates enthusiastically participate in this fundraiser and by partnering with United Way agencies across our communities all year round and we are proud to contribute to their success."
For more information on United Way, go to unitedway.org.