Centier Bank Donates $5,000 to the Crown Point Community Foundation
Last Updated on Mar 3, 2023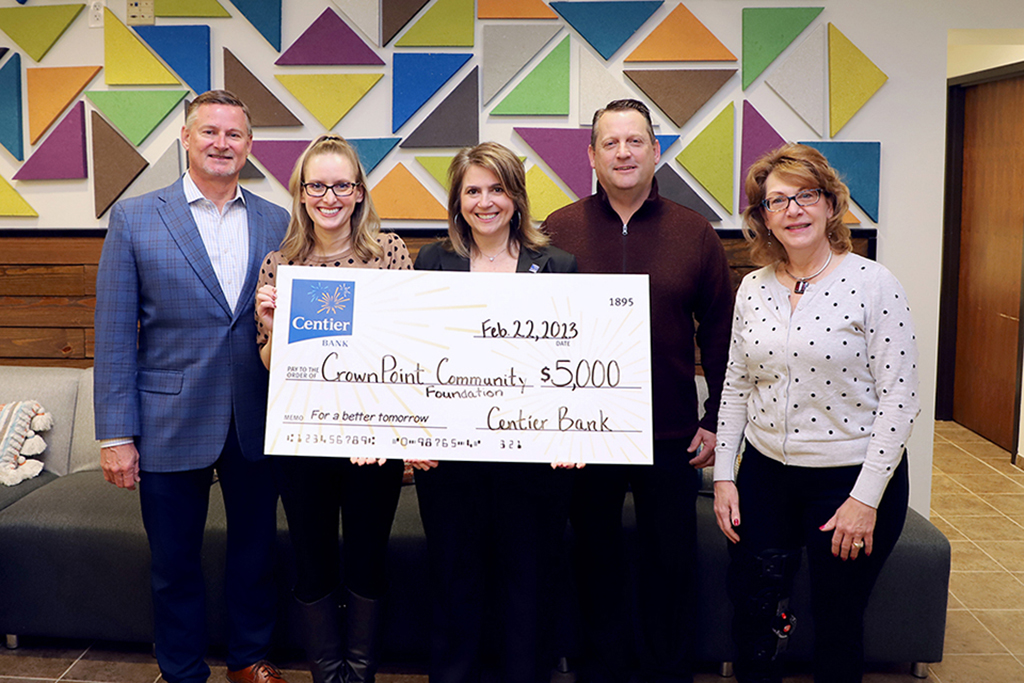 MERRILLVILLE, IND. – Centier Bank recently presented a $5,000 donation to the Crown Point Community Foundation for its upcoming Volunteer Fair and blood drive, taking place March 4 at Crown Point High School.

The Volunteer Fair is one of the foundation's largest and most anticipated events of the year. It aims to match charitable organizations with those who are interested in volunteering. In its 14th year, the fair gathers 50+ nonprofits from throughout the area in one convenient place, letting potential volunteers meet and talk with dozens of charities.
Chrisanne Christ, Senior Partner at Centier Bank, is also a board member for the Crown Point Community Foundation, and happily presented the donation.

"I am proud to represent two great organizations that are working to enrich the lives of our community members through outreach and volunteerism," Christ said. "The volunteer fair will help highlight some of the remarkable organizations in Crown Point and its missions."

Mary Burrell Nielsen, President of the Crown Point Community Foundation, said Centier's generous support is appreciated and that the foundation values Centier as a key community partner.

"Centier Bank has helped us to amplify the impact of our mission of enriching the quality of life in South Lake County Indiana through our grant making and scholarship programs, facilitating philanthropy through endowment building, and civic activities that help to make our communities a better place to live," she explained. "We are proud to partner with Centier Bank, who like us, strives to be the Heart of the Community in all that we do."

The event will also be holding an onsite Blood Drive, conducted by Versiti Blood Centers. Those interested can make an appointment at bit.ly/VersitiBloodCenter or call 1-800-7TO-GIVE. Before you donate eat iron-rich foods and drink plenty of water. Photo ID is required when donating.
For more information about the Crown Point Community Foundation's Volunteer Fair, go to thecpcf.org.