Centier Bank Donates $5,000 to TradeWinds Services, Inc.
Last Updated on May 1, 2023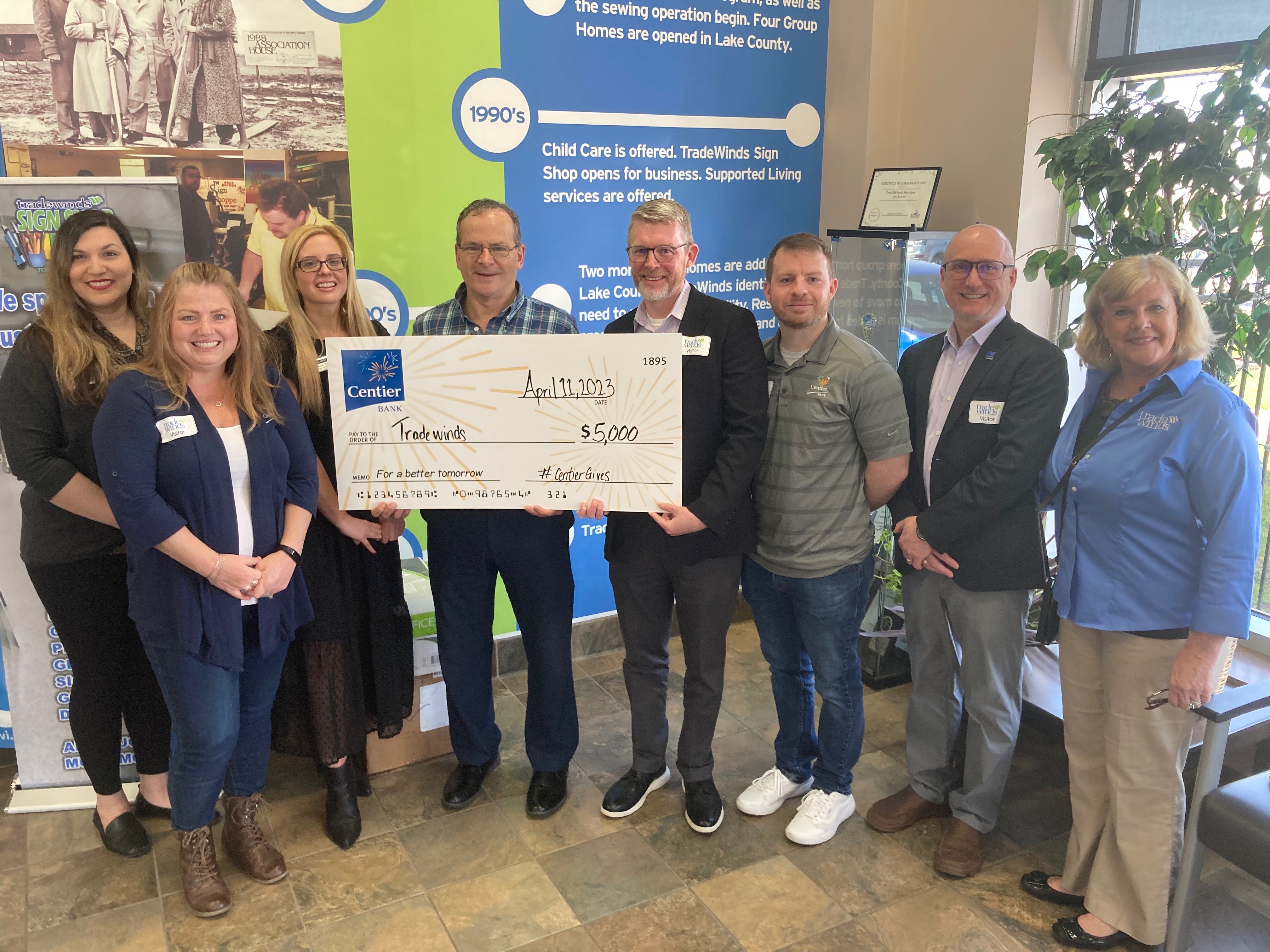 MERRILLVILLE, IND. – Centier Bank recently made a $5,000 community donation to TradeWinds Services, Inc., a Merrillville-based nonprofit agency that provides services to people of all ages with disabilities in honor of National Diversity Month.

TradeWinds serves people with special needs by empowering them to realize their full potential. They offer children's programs of all-inclusive childcare and children's camps, and speech and occupational therapies in local classrooms. The organization also provides an array of services for adults and seniors with developmental disabilities.

Lisa Tatina, Director of Development & Marketing and Director of Employment Services, said TradeWinds relies on community support to continue providing critical, professional services allowing individuals to empower themselves, improving their quality of life.

"We are excited about our partnership with Centier Bank because we enjoy that they are a hometown, family-owned business," Tatina said. "Like TradeWinds, Centier Bank's focus is on our local community, caring about customers, and believes in inclusion and diversity in the workplace."

Ashley Stephan, Volunteer Engagement Specialist, presented the donation to TradeWinds CEO Jon Gold, and Jan Martin, alongside members of Centier's Celebrating Abilities Network Associate Resource Group, Nicole Birmingham, Bev Strickland, Troy Rose, Steve Wagner, and Don Baker. Rose also serves on the board for TradeWinds.

"Centier has continued to grow our partnership with TradeWinds through the addition of longtime Board member Troy Rose joining the Centier family, as well as Centier's increased focus on diversity, equity, and inclusion through the creation of our internal Associate Resource Groups," Stephan said. "The mission of the CAN (Celebrating Abilities Network) is to promote empathy, understanding, and education around disability awareness throughout Centier Bank, as well as in the communities we serve."
Rose said it is rewarding to serve two organizations that can partner to enrich lives in the community.

"Advocating for individuals with disabilities is something I've always been passionate about," Rose explained. "It's encouraging that Centier recognizes the importance of creating equal opportunities for associates and clients of all abilities and continues to support organizations such as TradeWinds that share that same mission."

For 50 years, TradeWinds has continued to meet the increasing need for these services, making a direct impact on the lives of local children and adults with special needs, their families, and the Northwest Indiana community.
For more information on TradeWinds, go to
https://www.tradewindsnwi.org/
.