United Way of Greater Lafayette Presents Leadership Award to Centier Market President Joe Howarth
Last Updated on Feb 8, 2023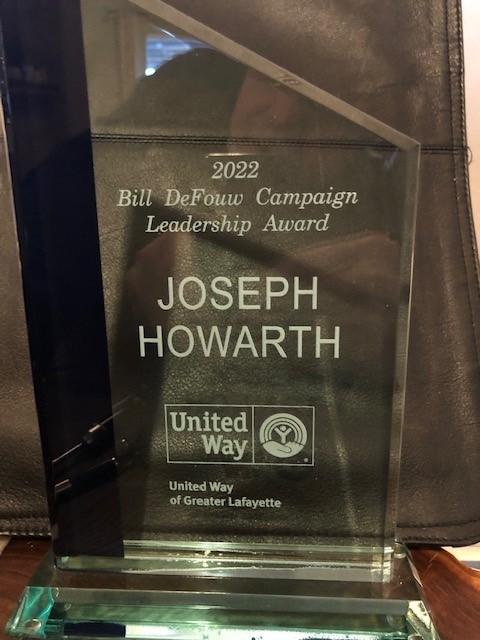 LAFAYETTE, Ind. – Centier Bank is pleased to announce the recent achievement of Joe Howarth, who was graciously presented with the Bill DeFouw Campaign Leadership Award from United Way of Great Lafayette.

Howarth has served as the Lafayette Market President at Centier Bank since 2014, and has been a part of United Way of Greater Lafayette for several years as well.
United Way of Greater Lafayette recognizes outstanding volunteers and corporate partners each January during the Annual Meeting and Awards Celebration. The Bill DeFouw Leadership Award is presented to an individual in honor of DeFouw's memory. This award recognizes an individual who leads the way in promoting United Way of Greater Lafayette's work with great care and compassion.


Jim Smith, United Way's 2022 Campaign Chair, presented Howarth with the award at the Jan. 27th celebration. Smith said Howarth was a standout campaigner who redefined communication while energizing and engaging volunteers and donors in the community.

Smith said as the UWGL 2022 Campaign Chair, Howarth was a great resource and support to him personally. He was not only in attendance
at 100% of all the organization's campaign meetings in 2022, but Howarth was involved and heavily engaged. Smith describes Howarth as a great Leader, representative, and Ambassador for the United Way of Greater Lafayette.

"There are always individuals who go above and beyond their volunteer roles and stand out as examples of what happens when we work together," Smith explained. "Joe is a very caring and compassionate individual, who offers his assistance, support, and encouragement to others. The UWGL, our Partner Agencies, and our fellow community members are blessed to have Joe Howarth a part of the Greater Lafayette community."

Howarth has served the organization for the past 9 years, including on the board as campaign chair in 2021, and as part of the organization's executive committee. He said his work with United Way of Greater Lafayette is meaningful and rewarding, and he was excited to receive the award from one of his most valued friends and mentors.
"The United Way is a support vessel for surrounding communities here in Lafayette. Their support mechanisms are critical to people that need them most," Howarth said. "When we can provide to those in need and make them stronger, we can create a stronger region. It has been important to me to serve in a quiet way, lending a hand to the organization to help accomplish its goals. It's just one way I can give back and lead from a Servant's Heart."
For more information about United Way of Greater Lafayette, go to https://uwlafayette.org.