A Complete Suite of Merchant Services from Centier
You've grown your business by constantly adapting to market and customer demands. You've continued to seek ways to differentiate your brand from your competitors and rise above status quo. In fact, there's no business quite like yours. So why should you accept off-the-shelf merchant service solutions as you continue to find new ways to take your business to the next level?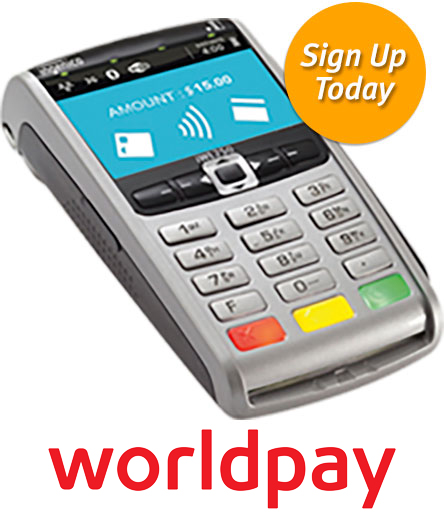 One Partner, Many Solutions
Through our partnership with Worldpay, Centier Bank is able to offer you a comprehensive Merchant Services Program that goes beyond basic electronic payments. Like your business, Worldpay and Centier Bank are different. We are innovative and adaptive. And together, we'd like to assess your business needs, introduce you to the latest tools and services, and develop a custom-tailored merchant services program that can enhance efficiencies and fuel new growth.
Take a look at the tools and services we will bring to your business:
Support all EBT card forms — SNAP, Cash Benefit and WIC — using the same equipment and processing systems as you do for credit or debit, offering EBT cardholders complete point-of-sale convenience.
As a transaction, recurring payments let cardholders authorize you to periodically bill their payment card for recurring goods or services.
You'll have access to a secure, online portal that helps you manage your accounts 24-hours-a-day, seven-days-a-week. It's a quick, secure, easy-to-use tool that can help you reconcile merchant accounts, respond to chargeback notices, research customer transactions, and more.
We understand that card data security can be intimidating, especially for smaller merchants. Get peace of mind with our EMV ("Chip Card" or "Smart Card") solutions, online data security tools, products and resources to help protect your business and your customers' identities. Our extensive security includes:
PCI Assist — Our merchant services partner Worldpay has partnered with Trustwave®, an industry leader in information security and compliance, to help you simplify the process with PCI Assist. PCI Assist walks you through the process step by step and provides tools and best practices to help keep your business secure.
Breach Assist - No matter what steps you take, there is no such thing as 100 percent security. What if a breach were to occur? Our Breach Assist program protects you from certain financial losses that can result from a suspected or actual cardholder data breach at your business.
Encryption - When it comes to mitigating security breaches, point to point data field encryption provides a solid layer of added protection. With state-of-the-art encryption technology, data is encrypted at the point of entry, making it unusable to thieves and hackers.
Tokenization - Tokenization replaces card data with a substitute value—a token—that is useless to criminals who may be attempting to steal data. Tokenization helps eliminate the storage of card data to reduce the risk of a data breach and protect merchants from financial and reputational harm.
Gift card programs can increase sales, improve cash flow, and project your brand. You'll have access to a program with multiple transactions types, flexible program controls, and cardholder and merchant support features to ensure you get the most out of your gift card program.
Isn't it time your cash register did more than just ring up a sale? Ask us about our affordable, tablet-based, cloud-connected mobile point-of-sale (POS) solution. Manage inventory, track sales, market to customers and process sales — anytime, anywhere. Or, download our mobile app and combine it with our mobile card reader so you can quickly and securely swipe any U.S.-issued credit, debit or prepaid card for processing on a smartphone or tablet. This product is perfect for small and medium-size businesses that do cash and check transactions today, but would benefit from the ability to accept card payments at the time of service.
You can offer several electronic check processing options that provide real-time authorizations and fewer check-processing hassles. Check services that can help you:
Reduce the risk of fraud, returned checks, and non-sufficient funds notifications.

Reduce check processing costs.

Increase back-office efficiencies.
Customers appreciate the simplicity and convenience of debit cards. Enable these purchases with dependable, secure debit card services. Worldpay is the nation's largest processor of online PIN debit transactions*, so you can take advantage of the infrastructure of a true payments leader.
*Source: The Nilson Report, March 2013
Accept payment cards no matter what your customers use. You'll have access to all of the major card networks, including Visa®, MasterCard®, Discover®, and American Express®. You can also process Fleet and Commercial cards — including Level II and Level III data transmission.