Centier Bank, 6 convenient locations to serve you in Greater Lafayette.
Centier has been part of the Lafayette community since 2007, when we opened a Business Banking Center in Downtown Lafayette. In 2010, we relocated with an expanded team to 323 Columbia Street and began offering a full range of financial products to both consumers and businesses – including Business Banking, Mortgage Lending, and Retail Banking Services. We now have five banking locations in Tippecanoe County and continue to grow!
Now Open! Our sixth full service branch on the East side at 5 Executive Drive is officially open for business!
No Results Found
Your search produced no results. Please try again.
Not a retail banking location. No cash on premises
Lafayette Business, Mortgage & Investment Center 201 Main Street
Lafayette, IN 47901Phone: (765) 742-7410 Get Directions More Info
Hours:Lobby:
8-5 (Mon-Fri)
Not a retail banking location. No cash on premises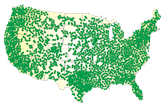 Find Fee Free ATMs Near You
Our partner networks make it easier than ever! Allpoint® has over 55,000 ATMs across the country, and Presto! is found in all Publix stores across the southeast.