Utilize Samsung Pay While On the Go
Now you can use your Centier Visa® Debit Card with Samsung Pay almost anywhere you can swipe or tap your card.*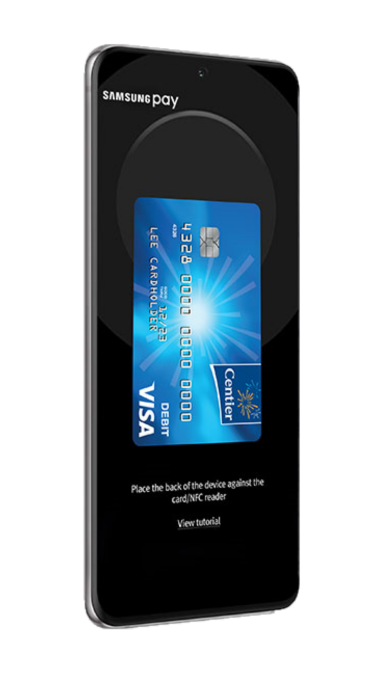 Use your Samsung device for things like:
Picking up a coffee or a quick bite to eat
Going to the movies or grabbing some snacks at the game
Shopping for clothes, gadgets, sporting goods and more
See a list of available retailers and apps at https://www.samsung.com/pay/
How it works:

Open the Samsung Pay app on your eligible mobile device.
Scan in your card information with your devices camera. Secure your account with your fingerprint and a backup PIN.
Samsung Pay will perform a quick validation with Centier before the card is ready to use.
When you are ready to make a purchase just swipe up on your screen and authorize your payment with your fingerprint. Hover your device close to the terminal to pay for your purchase.
The payment terminal will display a confirmation message to let you know your purchase was successful.

Online & Mobile Banking
Access your Money Anywhere, Anytime
With Centier Online & Mobile Banking you can make mobile check deposits, pay bills, control your debit card security and more.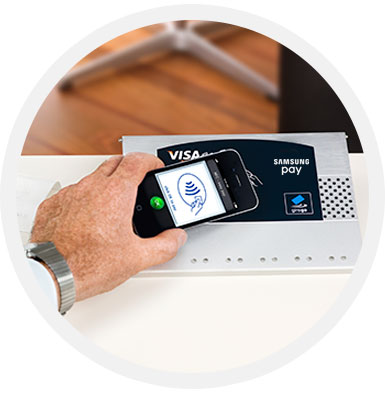 Payment Security
Samsung Pay is more secure than using a traditional credit or debit card since your card number and identity are not shared with the merchant or transmitted with payment, and your actual card numbers aren't stored on your device.
Best of all, you still receive all the protection your Centier debit card currently offers including Visa Zero Liability fraud protection and debit card on | off available with our Mobile Banking App.
Simplified Shopping
You can securely use your Centier Visa® Debit Card with Samsung Pay to make purchases in-store and in-app. It is available at many retailers and in some of the most popular apps in the Google Play store. See a list of available retailers and apps https://www.samsung.com/pay/.
Look for these symbols when
making purchases:

Disclosures
*To view full list of compaitble Samsung Pay devices visit https://www.samsung.com/my/samsung-pay/supported-devices/
Samsung Knox are trademarks or registered trademarks of Samsung Electronics Co., Ltd. Other company and product names mentioned may be trademarks of their respective owners. Screen images are simulated; actual appearance may vary. Samsung Pay is available on select Samsung devices.
Samsung Pay purchases using Centier Visa® Debit cards are protected from fraud under Visa's Zero Liability protection. Visit https://usa.visa.com/support/consumer/card-benefits.html for terms and conditions.
Visa® is a registered trademark of Visa® International Service Association and used under license. Centier does not charge a fee for Mobile Banking. However, you must have a mobile device and a wireless data plan to use this service. You may be subject to charges by your mobile carrier. Centier Mobile Banking applications support Apple, Android and Samsung operating systems.