Small Business Loans: What Are They & How to Get One
July 26, 2023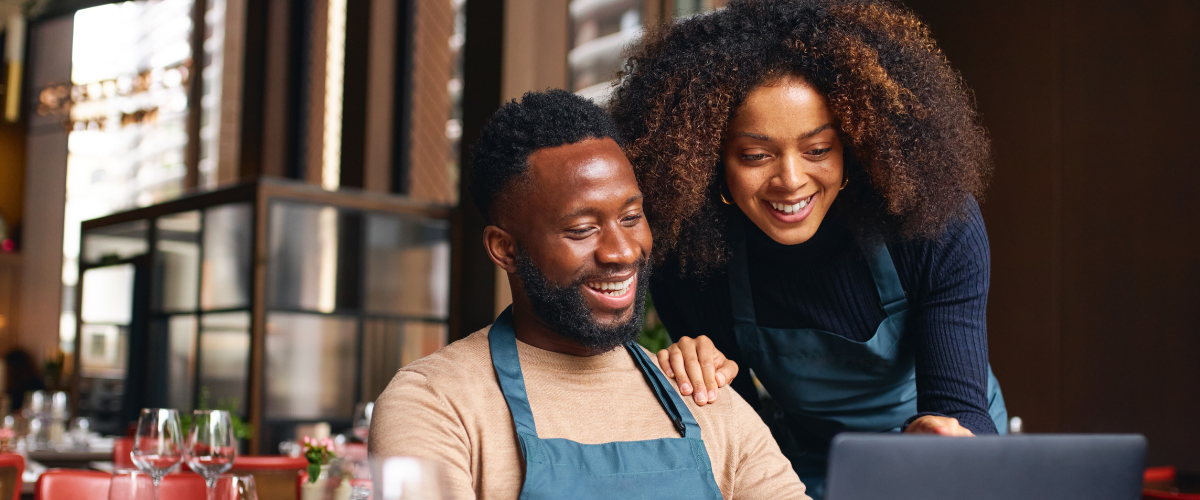 All loans are subject to credit approval. Any products are subject to terms and conditions and/or fees.
One of the chief components of growing a small business is funding to make purchases for expansion and upgrades. Even if your business is not in growth mode, a small business loan can help you refinance debt, renovate workspaces, or buy more inventory.
The challenge is finding the correct type of small business loan for your needs and taking the proper steps to secure it. This guide provides detailed information about four popular small business loan options and explains how to get them.
Types of Small Business Loans
Various small business loans exist. Each one has its advantages and disadvantages. Read on to learn about four of the most popular types of small business loans that could benefit your business.
Traditional Bank Loan
A traditional bank loan is a standard funding method for established small businesses with stable financial statements[1]. It gives small business owners access to funds for purchasing equipment, a new building, or other fixed assets.
After approval, you receive a lump sum of money upfront in exchange for a promise to repay the entire amount with interest within a predetermined period. Depending on the loan terms, traditional business loans:
May have a fixed or floating interest rate[2]
Have a loan maturity period between two to ten years
Include a down payment between 20% to 30%[3]
Some traditional banks may require a sizable down payment to lessen the total cost of the loan.
How to Get a Traditional Bank Loan
Traditional banks typically offer higher loan amounts and lower interest rates than other small business loan types. For these reasons, most traditional bank loans usually have higher qualification standards. When you apply for a traditional business loan application, the lender will ask for documented proof of the following:
Two or more years of profitable operation
A minimum credit score of 640[4], but many lenders prefer 700 or higher
Annual revenues in the six-figure range
Your business's size
A personal guarantee or collateral (in some cases)
If your credit score is below standard, you may qualify with a co-signer, a person willing to pay if you can't meet your payment obligation. Also, you can increase your chances of approval by providing the lender with a detailed business plan[5].
Small Business Administration Loan
Small Business Administration (SBA) loans are structurally like traditional bank loans. The primary difference is the U.S. government backs up to 85%[6] of SBA loans. As a result, SBA banks and other lenders can offer loans with more favorable loan terms and less stringent qualifications than traditional bank loans.
Although you can borrow up to $5 million on an SBA 7(a), the average borrowing amount is around $600,000[7]. One of the SBA loan program's best features is its advocacy for longer-term small business financing. Depending on your borrowing purpose, you can receive payment terms of up to 25 years[8].
If approved, your upfront cost would include a down payment between 10% and 30% and a fee for guaranteeing the loan. Your interest rate may be fixed or variable[9].
How to Get an SBA loan
Although SBA loan applications vary in requirements, all lenders require a completed SBA form 1919[11]. They also require several supporting documents, such as personal or business financial statements, business licenses, tax returns, and credit reports verifying a credit score of around 640.
To meet the general SBA loan eligibility requirements, your business must:
Be a for-profit company
Do business in the U.S. or its territories
Possess reasonable owner equity to invest
Use alternative financial funding like personal assets before applying for financing
Small Business Administration lenders will not approve SBA loans for businesses involved in speculation, gambling activities, lending activities, pyramid sales plans, and investments. Also, the owner cannot be on parole.
A business line of credit works like a credit card. You can withdraw as much money as needed within the credit limit. So, instead of paying interest on a lump sum from a bank loan, you pay interest only on the amount withdrawn.
Although the loan amounts are typically smaller than traditional loans, a small business line of credit is a more flexible way of getting money for business expenses. Plus, most lenders allow you to access your line of credit funds through a business checking account or mobile app.
How to Get a Line of Credit
When you apply for a business line of credit with a bank or other lender, your credit approval depends on several critical factors. Some of them are the following:
Credit score: A high credit score equals lower interest, fewer fees, and better loan terms. Most lenders prefer scores of 670 and above[10].
Years in business: Most lenders prefer two years.
Annual revenue: The minimum requirement is around $36,000[11].
Collateral: If your credit score is low or you want a lower interest rate, you can provide an asset to guarantee the repayment of the withdrawn money.
The funding wait time is usually quicker than for other types of loans.
Merchant Cash Advance
A merchant cash advance (MCA) can be a good financing option if your business income primarily comes from credit and debit card sales. Once approved, you receive a lump sum upfront, like a traditional loan. But instead of making monthly payments from your gross earnings, you repay the MCA balance with a daily withholding of a percentage of your credit and debit card sales.
Since MCAs have high borrowing costs, they are best for businesses that need quick capital and can't get financing any other way. MCAs also don't require collateral, and the terms are flexible.
How to Get a Merchant Cash Advance
MCAs have a higher approval rate than other business loans because they value monthly credit and debit card sales over credit scores. You can apply for an MCA through many lenders by completing the application and supplying the necessary documentation. After approval, the funding company will deposit the lump sum in your business bank account.
Weighing Your Small Business Loan Options
Taking on large debt is always an impactful move. This is why it takes careful research and planning to get the best loan outcome for your company. With the new knowledge about these four business loan types, you should have an easier time finding the right loan option for your business and qualifying for it. For more useful financial information, visit Centier Bank's online resources.
Citations
[1] https://www.sec.gov/reportspubs/investor-publications/investorpubsbegfinstmtguide
[2] https://www.consumerfinance.gov/owning-a-home/loan-options/
[3] https://www.mortgagecalculator.org/calcs/hard-money-loans.php
[4] https://www.experian.com/blogs/ask-experian/how-do-small-business-loans-work/
[5] https://www.sba.gov/business-guide/plan-your-business/write-your-business-plan
[6] https://www.sba.gov/partners/lenders/7a-loan-program/terms-conditions-eligibility
[7] https://www.sba.gov/funding-programs/loans
[8] https://www.sba.gov/partners/lenders/7a-loan-program/terms-conditions-eligibility
[9] https://www.consumerfinance.gov/ask-cfpb/what-is-the-difference-between-fixed-and-variable-rate-auto-financing-en-757/
[10] https://www.equifax.com/personal/education/credit/score/what-is-a-good-credit-score/#
[11]
https://www.usatoday.com/money/blueprint/business-loans/best-business-lines-of-credit/