Centier Bank, 6 convenient locations to serve you in the greater Indianapolis area.
Centier Bank entered the Greater Indianapolis market in 2011 with a commercial loan production office in Carmel's Meridian Mark business complex. Since then, Centier has expanded its greater Indianapolis operations to include cash management, residential lending and 6 full service retail branches that offer personal banking services. These retail branches also feature convenient drive-thru services, EZ Deposit ATMs, and extended evening and weekend hours at the Whitestown Meijer location.
No Results Found
Your search produced no results. Please try again.
Not a retail banking location. No cash on premises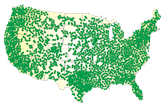 Find Fee Free ATMs Near You
Our partner networks make it easier than ever! Allpoint® has over 55,000 ATMs across the country, and Presto! is found in all Publix stores across the southeast.