Centier Bank Launches Personal Credit E-Course Through Centier To You
October 20, 2020
MERRILLVILLE, Ind. – Centier Bank has rolled out a free personal credit e-course through its new online Financial Educational series, Centier To You, available on the bank's website.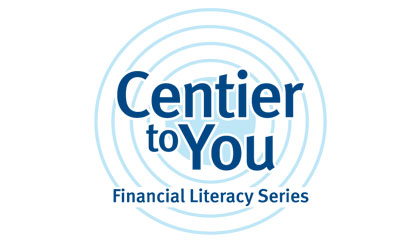 The e-Course includes free worksheets and Top 5 Tips on managing your personal credit, as well as information on how to obtain free copies of your credit report, understanding your credit score, and what your personal credit means for your purchasing power.
Lauren Zurbriggen, Financial Education and Community Outreach Coordinator at Centier Bank, said that consumers should understand why their personal credit history can impact nearly every aspect of their financial lives.
"Your credit score and credit history is examined by banks, cell phone companies, and sometimes even potential employers—so it matters," she explained. "This course will help consumers gain an understanding of all the facts that go into a credit report, and answer common questions about credit, such as 'is closing a line of credit good for my overall credit score?'"
Zurbriggen also said that this course is especially timely, considering Americans are carrying a total of over $14 trillion in consumer debt. An understanding of this topic is vital to gaining overall financial wellness, she said.
"We are excited to be able to offer this information to anyone who wants to utilize it—not just Centier clients," she said. "Anyone who wants to know more about budgeting, home buying, getting out of debt, or any of our other financial education topics is welcome to utilize the resources we offer."
For more information about Centier To You and to access the free credit e-course.
For more information about Centier Bank, go to centier.com.